Creamy Garlic Butter Chicken is dinner perfection. You will love this golden, crispy chicken doused in the most delicious garlic sauce ever!
For busy families who need a protein-packed dinner to keep those hangry beasts (I mean kids) at bay, this creamy garlic butter chicken recipe is here to save your LIFE!! In under 40 minutes, you'll have a deliciously creamy chicken dish prepped, cooked, and plated.
What's even better? It only uses ONE pan. On busy weeknights, I always reach for either my favorite easy pork chop recipes or this Creamy Garlic Butter Chicken – great food, super quick, and easy cleanup… it's totally winner winner chicken dinner!
CREAMY GARLIC BUTTER CHICKEN
Like this recipe? Pin it to your DINNER board!
Follow Real Housemoms on Pinterest
If you're anything like me, you love garlic. I like garlic to an almost unhealthy level (like warding off vampires level…). Garlic is by far my favorite herb to season my foods with. I put it in pasta, season my chicken with it, and of course, I love good toasty garlic bread.
Garlic is simply seasoning perfection. It has a slightly spicy flavor that when cooked becomes deliciously sweet and makes your mouth water with anticipation for that moment you take your first bite.
This garlic butter chicken has tons of garlic in it. But, don't fret… you won't be scaring people off with your breath. Because you're sautéing it, the garlic gives off more of its sweet flavor than the stinky breath-causing flavor. 🙂
Ingredients for Garlic Butter Chicken
The thing I love most about this garlic butter chicken breast recipe is that it only uses ingredients that are staples in my pantry. No trips to specialty grocery stores, no last-minute sending my husband out for an ingredient that I totally forgot. That's what makes this dinner an easy weeknight dinner… I can make it on a total whim!
Chicken –  I usually grab a pack of thin-cut boneless skinless chicken breasts for this recipe. One less thing to prep. However, you can also buy regular chicken breasts and cut them in half to create 4 thin-cut breasts.
Buy whatever is on sale, there's no wrong answer here. You just want the chicken thin so it cooks quickly and all the way through.
Chicken Seasoning – so you're not going to really bread your chicken breasts, but you will give them a quick dredge to give them that golden crisp that tastes amazing. To make this seasoning you'll need some flour, grated parmesan, salt, garlic powder, salt, and pepper.
Sauce – garlic butter sauce for chicken is delicious and SO easy to make. For this garlicky perfection, you'll need olive oil, butter, onion, garlic (a whole head of it, you won't regret it!), chicken broth, cream, some more grated parmesan, and parsley.
How to make Creamy Garlic Butter Chicken
Like I've already mentioned, this is one of my go-to busy mom meals. Simple ingredients matched with quick and easy cooking make for the ultimate dinner. So, grab your favorite skillet and get cooking!
Start by prepping your chicken seasoning: in a shallow bowl, combine your flour, parmesan cheese, salt, pepper, and garlic powder.
Dredge your chicken breasts in the flour mixture and shake off the excess. Remember – we're not BREADING your chicken here, just giving it a thin coating to get that nice crisp to the chicken.
Next, in a large skillet over medium high heat, heat the oil and the butter. Add the chicken and cook for about 3-5 minutes on each side (or until the chicken is cooked through and golden brown).
Remove your cooked chicken from the pan and set it aside. Don't get rid of those pan drippings though! Keep them in the skillet as the base for your creamy garlic butter sauce.
Now grab that head of garlic and peel it. Smash the large cloves of garlic, the smaller ones can stay intact.
In the skillet (with all those juicy drippings!), add the onions and cook until they're translucent.
Add in the garlic and saute.
Next, add a little broth to the pan to deglaze it. Then add the rest of the broth and the cream.
Cook the sauce until it is reduced and a little thicker. It will still be somewhat thin, don't worry. The parmesan cheese will thicken it up!
Add in the parmesan cheese and salt and pepper to taste.
Return the chicken to the pan and cook for about 2 minutes more – this step really gets that garlicky flavor infused into your chicken breasts.
Sprinkle with parsley and a little extra parmesan, serve and enjoy!
How do you cook chicken breast without drying it out?
Chicken is for sure one of my favorite meats to cook with. It's just so versatile and delicious (not to mention a great source of lean protein!). But, if cooked incorrectly, chicken can be dry, tough, and simply unappetizing.
I've found that in order to keep chicken tender and moist, you've got to cook it on relatively high heat for a short time. The thinner your chicken breasts, the easier it is to cook to a safe temperature without letting it dry out.
It's also super helpful to cook and serve the chicken with a sauce. Garlic butter sauce for chicken is a perfect example! The sauce not only infuses the chicken with tons of creamy flavor, but it also helps to lock the moisture of the chicken inside!
Looking for some more yummy weeknight meals? Try out some of these other Real Housemoms recipes!
Tools used to make this Creamy Garlic Butter Chicken recipe
Non-stick Skillet: for one-pan dishes like this creamy garlic butter chicken, you need a trusty non-stick skillet and this is my favorite one I've ever had!
Shallow Bowl: These bowls are perfect for setting up a dredge station! Use one as I did for this recipe, or grab three for a flour-egg-breading station!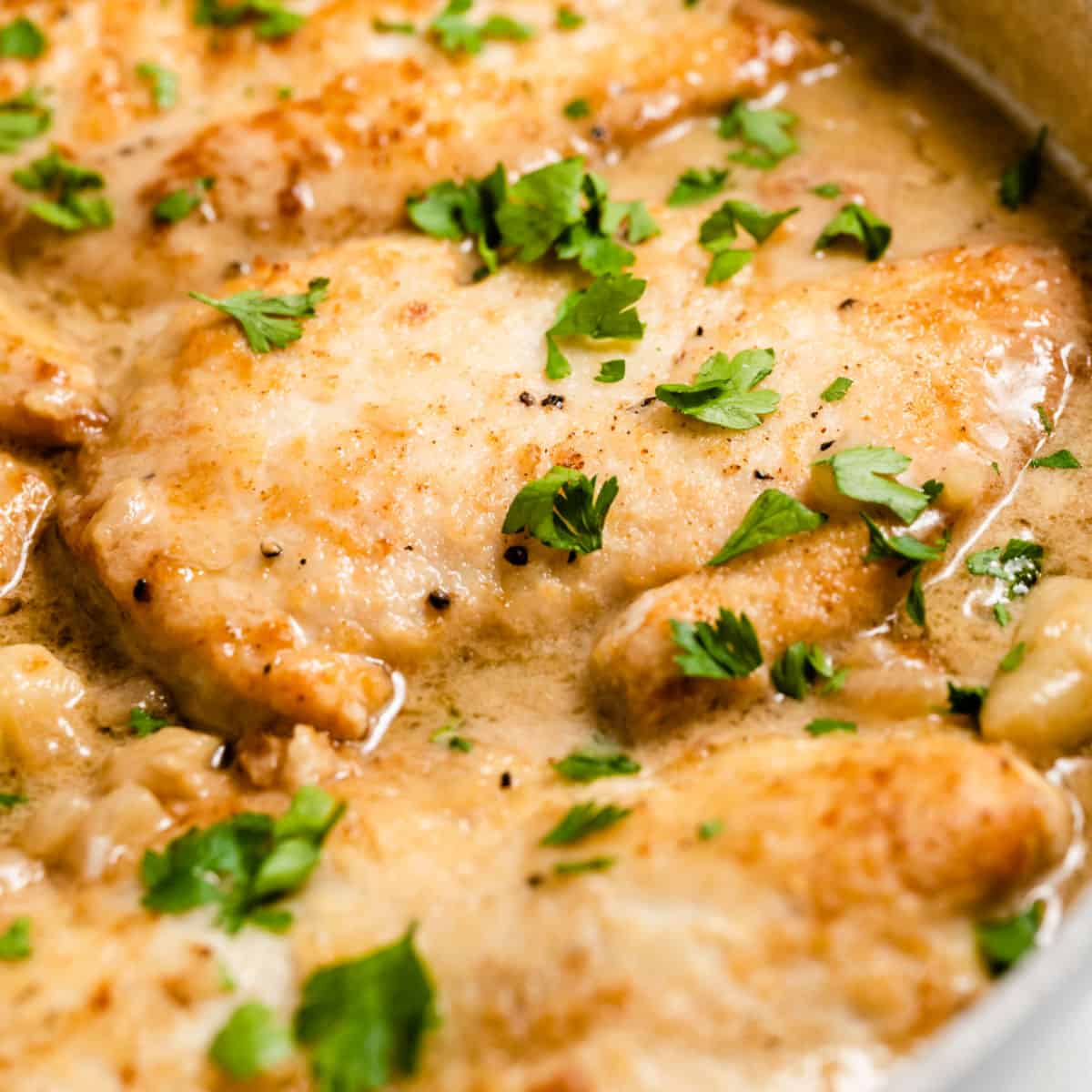 Ingredients
4

thin-cut chicken breasts

(see note)

4

tablespoons

flour

4

tablespoons

Parmesan cheese

shredded

1

teaspoon

garlic powder

1

teaspoon

salt

1/2

teaspoon

pepper

1/4

cup

olive oil

2

tablespoons

butter
Creamy Garlic Sauce
1

small

yellow onion

peeled and chopped

1

head

garlic

peeled and clove ends cut off

1 1/4

cups

chicken broth

1

cup

heavy cream

1/2

cup

Parmesan cheese

grated

Salt and pepper

to taste

2

tablespoons

fresh parsley

chopped
Instructions
In a shallow bowl, combine flour, parmesan cheese, garlic powder, salt, and pepper. Dredge chicken in flour mixture to coat completely. Shake off any excess.

Place a large skillet over medium-high heat. Add olive oil and butter.

Once butter is melted, add chicken to the skillet. Cook for 3-5 minutes on each side until cooked through and golden brown.

Remove chicken to a plate and set aside.

To the same skillet add the chopped onion and cook until translucent, about 5-7 minuts.

Add garlic and saute until soft and fragrant. Add a little chicken broth to deglaze the pan, being sure to scrape up the brown bits on the bottom of the pan.

Add the remaining broth and heavy cream to the skillet. Cook until simmering and then reduce heat to medium. Stir often until the sauce has thickened.

Add grated Parmesan cheese to the sauce and stir until melted. Season to taste with salt and pepper.

Return chicken to the pan along with any resting juices on the plate. Cook for 2 minutes, spooning sauce over the chicken as it cooks.

Sprinkle with chopped parsley and a little extra Parmesan cheese. Serve warm.
Notes
You could also buy two regular boneless skinless chicken breasts and cut them in half to make 4 thin breasts.
Nutrition
Calories:
560
kcal
|
Carbohydrates:
13
g
|
Protein:
21
g
|
Fat:
47
g
|
Saturated Fat:
22
g
|
Trans Fat:
1
g
|
Cholesterol:
145
mg
|
Sodium:
1273
mg
|
Potassium:
415
mg
|
Fiber:
1
g
|
Sugar:
1
g
|
Vitamin A:
1376
IU
|
Vitamin C:
12
mg
|
Calcium:
278
mg
|
Iron:
1
mg
Tried this recipe?
Snap a pic and upload to your pin and let me know what you thought!