Dress up your garden with some easy to make DIY Garden Stones! You can even let the kids help decorate them!
Ever since Spring I've been working on getting my flowers beds in order. I finally got everything planted, now I just needed to add some decorative accents. I've been wanting to make some garden stones for awhile now and I thought it would be the perfect time.
I looked up a couple ideas on how to make them (which is super simple) and ran out to get my supplies.
For this craft, you're going to need the following materials:
Supplies
Fast Setting Concrete
Plastic Plant Trays
Decorative Glass
Shells
Bucket
Water
Getting Started
I ran to Lowes for most of my supplies. I was able to grab the fast setting concrete ($4.00) and the plant trays ($2.00 – $3.00) then I headed for to the craft store for my decorative glass.
I was super excited to get started on this project. It's my first garden/outdoor project ever!
 Step 1 – Mix Your Concrete
For mixing your concrete I just followed the directions on the bag. I mixed it up with a large wooden spoon. Super Easy, the only thing I suggest it not adding too much water any making it runny.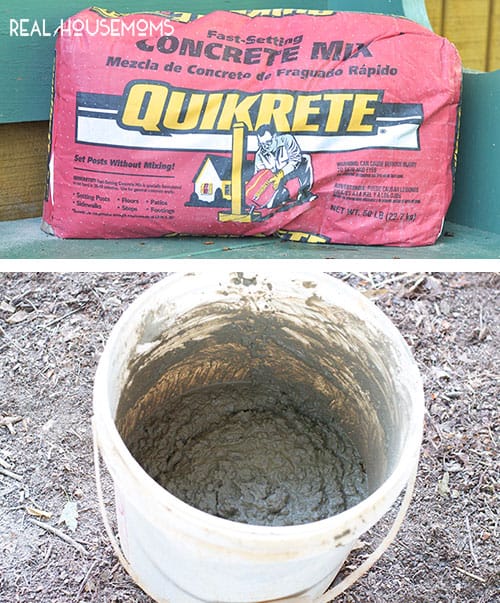 Step 2 – Pour Your Concrete
Once the concrete was mixed we poured it into our mold. Then smoothed down the top with our wooden spoon.
Step 3 – Decorate Your Stones
Now this is fast setting concrete so your going to need to move fast with this part!
Push down your glass beads/shells firmly into the concrete. They go in pretty smoothly, which it great!
See super simple so far, right??
Then wait 40 minutes for the concrete to completely dry.
Step 4 – Remove Garden Stone
Once the stones have hardened you can easily remove them by loosening up the side and then popping them out.
Voila, all done!
Plus the best part you can reuse the plastic molds.
Finishing Touches
Now I have some cool garden stones for my flower beds and I had them done in no time.
Next I plan on having each of my 3 boys make one with their names and handprint.
Plus you can personalize them any way you want. I've seen some pretty detailed ones on Pinterest.
As you can see the garden stones are pretty inexpensive to make and so easy to do. I think the shells look really cool in the center of them as well. I can't wait to make more now! I plan on doing several more projects for my flowers bed, I'll keep you posted!
I hope you loved this craft. If you'd like to get more craft project ideas and inspiration stop by my blog!