Crispy, tender "fried" chicken that is healthy? Air Fryer Parmesan Crusted Chicken is the exact dinner recipe you've been looking for!
It's no secret that I am obsessed with my air fryer. I've literally been air frying EVERYTHING lately. From delicious air fryer donuts to homemade french fries you really can't go wrong with an air fryer recipe.
Dinner in About 30 Minutes
With only 15 minutes of prep work and 15 minutes of cook time, this air fryer parmesan crusted chicken recipe is the ULTIMATE busy mom's best friend. It's quick, delicious, and super family-friendly.
One of my favorite things about air fryer parmesan crusted chicken breast is that it tastes great all on its own OR you can dip it into your favorite dipping sauce! It's also perfect for topping your favorite salads!
Parmesan crusted chicken air fryer style is EXACTLY the type of recipe I love for hot summer days. An air fryer is the perfect little contraption because it keeps all its heat inside, you'd barely even think it's on! Forget heating up the entire kitchen to cook your dinner, friends.
My family's favorite chicken dinners
Chicken Pot Pie Recipe – Creamy chicken and vegetable filling gets topped with fluffy biscuits and baked until bubbling. Comfort food at it's best and SO easy to make!
Chicken Parmesan Recipe – My boys ask for this baked chicken parmesan all the time! It's great for weekngihts and ready in about 30 minutes. Serve it up with your favorite past and a salad.
Parmesan Crusted Chicken Ingredients
Chicken Breasts – for this recipe you'll want 2 large chicken breasts that you've sliced (the long way to make them thinner). you'll then want to pound them as thin as you can get them. This will ensure that they're nice and tender and cook evenly!
Mayonnaise – mayo serves two different purposes in this air fryer parmesan chicken recipe. First, by spreading mayo on your chicken, it helps to keep the meat moist and juicy. Second, it acts as a glue for that delicious crunchy breadcrumb and parmesan crust!
Breadcrumbs – while typical breadcrumbs would work in this recipe just fine, I've found that I prefer the extra crunch you get from using panko bread crumbs. Just make sure you're using the seasoned variety, it adds delicious Italian flavor to your coating.
How to Cook Parmesan Crusted Chicken in an Air Fryer
STEP ONE: Preheat your air fryer to 390 degrees F. While your air fryer is heating up, cut each chicken breast lengthwise and then pound them to the same thickness with a meat tenderizer.
STEP TWO: Grab a small bowl and mix up the mayo and the minced garlic. Spread this mixture all over each piece of chicken. (Get the whole thing covered – it'll keep your chicken juicy and delicious!)
STEP THREE: Now it's time to get that parmesan crust on! In a medium-sized shallow bowl, combine the panko, parmesan cheese, and salt and pepper. Place your mayo-coated chicken breasts into the panko mixture and coat them evenly.
STEP FOUR: Coat the air fryer basket with cooking spray (I use olive oil spray). Place your coated chicken into the basket and cook in the air fryer for 8 minutes. After 8 minutes, flip the chicken and continue to cook for another 5-7 minutes.
STEP FIVE: When chicken is cooked and crisped to perfection, serve hot with extra parmesan cheese and parsley for garnish.
Tips for Success
Be sure to get a good coating on the chicken. You don't want any bald spots.
Spray the basket of your air fryer with olive oil to prevent the chicken from sticking. You may even want to give it another quick spritz when it's time to flip the chicken.
Starts checking the chicken around 5 minutes after flipping to make sure the crust doesn't get overcooked.
Don't overcrowd the air fryer basket. The chicken should have room to let the hot air circulate around all the edges.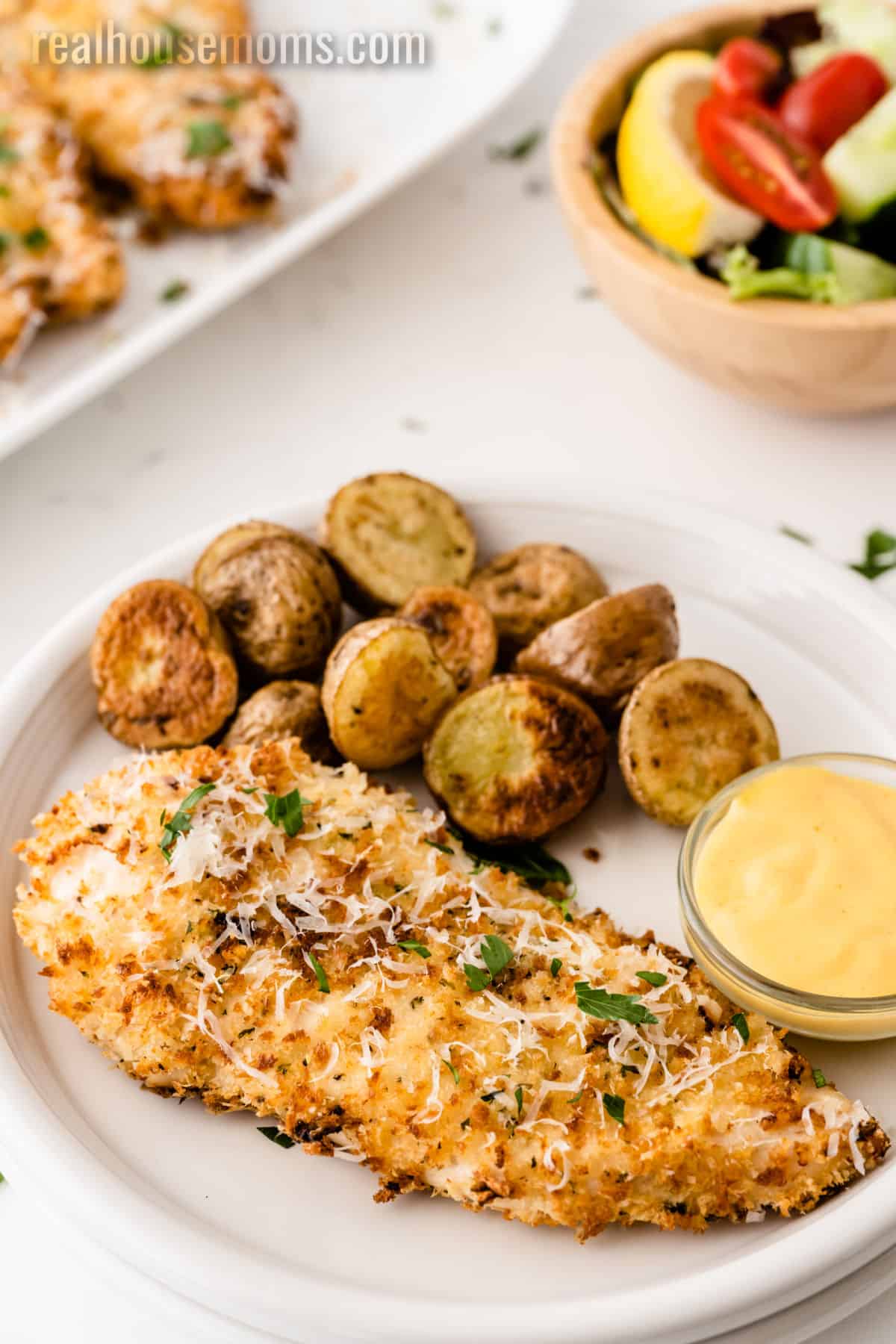 What temperature and how long do you cook chicken in an air fryer?
For air fryer parmesan-crusted chicken breast, I typically use 390 degrees F as my sweet spot temperature. I've found that when chicken breasts have been halved and pounded thin, they'll need about 15 minutes to air fry to perfection.
If you'd rather make air fryer parmesan chicken tenders, just make a few simple adjustments to your temperature and cook time.
Because tenders are so much smaller, they'll cook faster. You can crank up the heat on your air fryer to 400 degrees. Then fry them for about 5-6 minutes on each side.
Can you use breading in an air fryer?
I wouldn't recommend using a super heavy, super wet batter in an air fryer (like the one used for beer-battered fish). Unfortunately a heavy breading like that will just drip through the tray and leave your chicken plain and breading-less.
However, a simple breadcrumb coating like the one for air fryer parmesan chicken will work perfectly. Because the light breading is stuck onto your chicken breasts with an egg wash, it'll stay just fine while the chicken is being air fried.
Looking for some more yummy chicken recipes?
Ingredients
2

large

boneless skinless chicken breasts

¼

cup

mayonnaise

2

cloves

garlic

minced

¼

cup

Parmesan cheese

grated

½

teaspoon

salt

¼

teaspoon

pepper

Fresh parsley

finely chopped, for garnish
Instructions
Preheat the air fryer to 390 degrees F.

Cut chicken breasts in half to make four thin breasts. Place one thin breast between two pieces of plastic wrap and pound into a thin, even piece with a meat tenderizer. Repeat with the remaining chicken.

In a small bowl, stir together the mayo and minced garlic. Spread the garlic mayo all over the chicken breasts.

In a shallow bowl, combine the Panko bread crumbs, Parmesan cheese, salt, and pepper. Place a chicken breast into the bread crumbs and press down. Flip and coat the other side. Repeat with the remaining chicken.

Coat the air fryer basket with olive oil spray. (Do not use PAM, it can damage some baskets.)

Place the chicken in the basket and cook for 8 minutes. Flip and cook for another 5-7 minutes until golden brown and crispy. (Repeat as needed, you don't want to overcrowd the basket.)

Remove chicken and serve warm with extra Parmesan cheese and chopped parsley for garnish.
Nutrition
Calories:
237
kcal
|
Carbohydrates:
11
g
|
Protein:
16
g
|
Fat:
14
g
|
Saturated Fat:
3
g
|
Trans Fat:
1
g
|
Cholesterol:
46
mg
|
Sodium:
781
mg
|
Potassium:
225
mg
|
Fiber:
1
g
|
Sugar:
1
g
|
Vitamin A:
76
IU
|
Vitamin C:
1
mg
|
Calcium:
81
mg
|
Iron:
1
mg
Tried this recipe?
Snap a pic and upload to your pin and let me know what you thought!